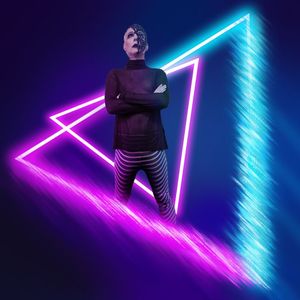 It's taken me a long time to get to this point in my life……. 
My love of Electronic Music has always been influenced by the early pioneers (Kraftwerk, Gary Numan, The Human League, Depeche Mode, Soft Cell, Yazoo, Soft Cell, Heaven 17). To a young teenage boy, this is what the future sounded like. I was (and still am) an avid Record Collector. The notion of ever owning a synthesizer back then was beyond my wildest dreams (and more importantly beyond my budget too). 
As the years passed by, my musical taste continued to develop towards a more modern sounding Electronica – New Order, The Pet Shop Boys, Scrittl Polliti, but also encompassed many other genres too – Funk, Soul, Disco, SKA along with Guitar Based Rock/Pop. Clubbing became important to me with Acid House and Techno emerging from the early 90's and with it the so called the "Big Beat" era – Underworld, The Chemical Brothers, Daft Punk et al. My record collection grew at pace. I still harboured ambitions of making music but the ability to create something tangible still felt a million miles away (if only I had properly researched those Midi ports on my Atari ST home computer….) 
As the years quickly moved forward into the new millennium, access to new technology was beginning to become accessible and affordable. The internet was now part of our everyday lives. Doors were quickly becoming unlocked. Technology was moving fast and at scale. The barriers to entry were diminishing. The digital world was soon upon us. The warped electronica of Aphex Twin and Lone's sonic textures to were now being added to my list of influences. 
Off the back of a random conversation at work about Digital DJing software (NI's Traktor which I still love and use till this day) I started to produce mixes at home (initially awful) which then led to the purchase of actual decks (god knows why it took me so long taking into account how much I loved music). The natural evolution of many DJ's around this era was to then produce their own tracks. I was no exception. I bought as many "how to" magazines and books as I could and watched countless number of videos (my habits haven't changed to this day). 
I initially started with a cracked copy of Reason (come on, who didn't back then) and a load of samples (some legal, others not…). My fascination eventually evolved into purchasing a copy of Ableton Live software (a seminal moment) a Midi keyboard/controller and a few software based synths (i.e Native Instruments). Soon I was addicted and over time I was buying hardware in the form of Drum Machines, Sequencers and classic Synthesizers that could now be considered affordable (dreams can come true…) 
Via constant learning, my production techniques continued to improve whereby some of the material I was creating felt like it needed to be heard outside of my spare room. My Soundcloud account begin to fill with some half decent tracks and this was the catalyst to finally record an album. My debut album Kaleidoscope was born from those sessions and took over three years to complete. It was released in early 2018. It was an incredible thrill to see it available in digital stores. The culmination of a long, long journey – an ambition fulfilled. 
Work quickly started on a follow up in the winter of 2018 and in September 2019 I released One Eye Open which received a very positive review in Electronic Sound Magazine (again, another tick in the proverbial box) and to this day is still being played on a daily basis somewhere in the world (which still blows my mind). 
My third album Recalibration, was a collection of songs released in early 2021 which were chronicled against a backdrop of fear, uncertainty, anger and ultimately hope I.e Lockdown. It was a period of "reset" for everyone on this planet, and became a time to reflect on what's important in our own individual lives (and what's not..). The making of that album, over a ten month period in 2020 became my own personal outlet to vent feelings (positive & negative) during this time.  
And so onto Chaos & Beauty. It was conceived/recorded over an eighteen month period (August 2021 to January 2023) and once again as per my previous work, it contains a variety of different electronic genres and styles. When starting this project, I set myself a brief of "melody and texture". When I listen back to the finished article, I firmly believe I have achieved the goals that I had initially set out to achieve. It's a cliché for every artist who releases a new album, but I genuinely believe this my most consistent, finest piece of work to date. 
The album title didn't actually form itself in my head until late in the process. There were numerous contenders (of which I won't reveal….) but Disconnected (the title of one of the tracks) was a strong favourite for quite a while. However, quite randomly the phrase Chaos & Beauty entered my consciousness – I cannot tell you how or when. The overarching concept of the album is about juxtaposition. It's a collection of thirteen songs that reflect upon the current positives and negatives of modern day life, allied with our consumption of news on TV. At this moment in time, it seems we are continual voyeurs of wars, natural disasters, poverty, disease and human intolerance. The unfolding of these constant events right before our eyes is continually shaping our future mindsets, attitudes and beliefs either directly or indirectly in some form or another.
I would like to thank my collaborators on this album for their excellent contributions – The Fabulous Flack, Genevieve, ROS and not forgetting MizzKitt (who has supported me on this project throughout). I still get an enormous thrill seeing my work immortalised in digital form. I hope you all feel the same way too. 
As you can tell, I take the creative process as seriously as producing music. To that extent I now have a Merchandise Store too – please take a look (link is provided on home screen). It's a non-profit venture as well. People have been asking me about the crystal mask. It was used as a deliberate symbol of reference – one side Chaos, the other side Beauty. I'll let the viewer decide which is which…. 
I can't wait for you to hear these songs as they have been stuck in my head (and Macbook Pro..) for months upon months – it's now time for others to hopefully enjoy them too.
"Amongst The Chaos, Beauty Can Be Found" 
Regards 
Mark